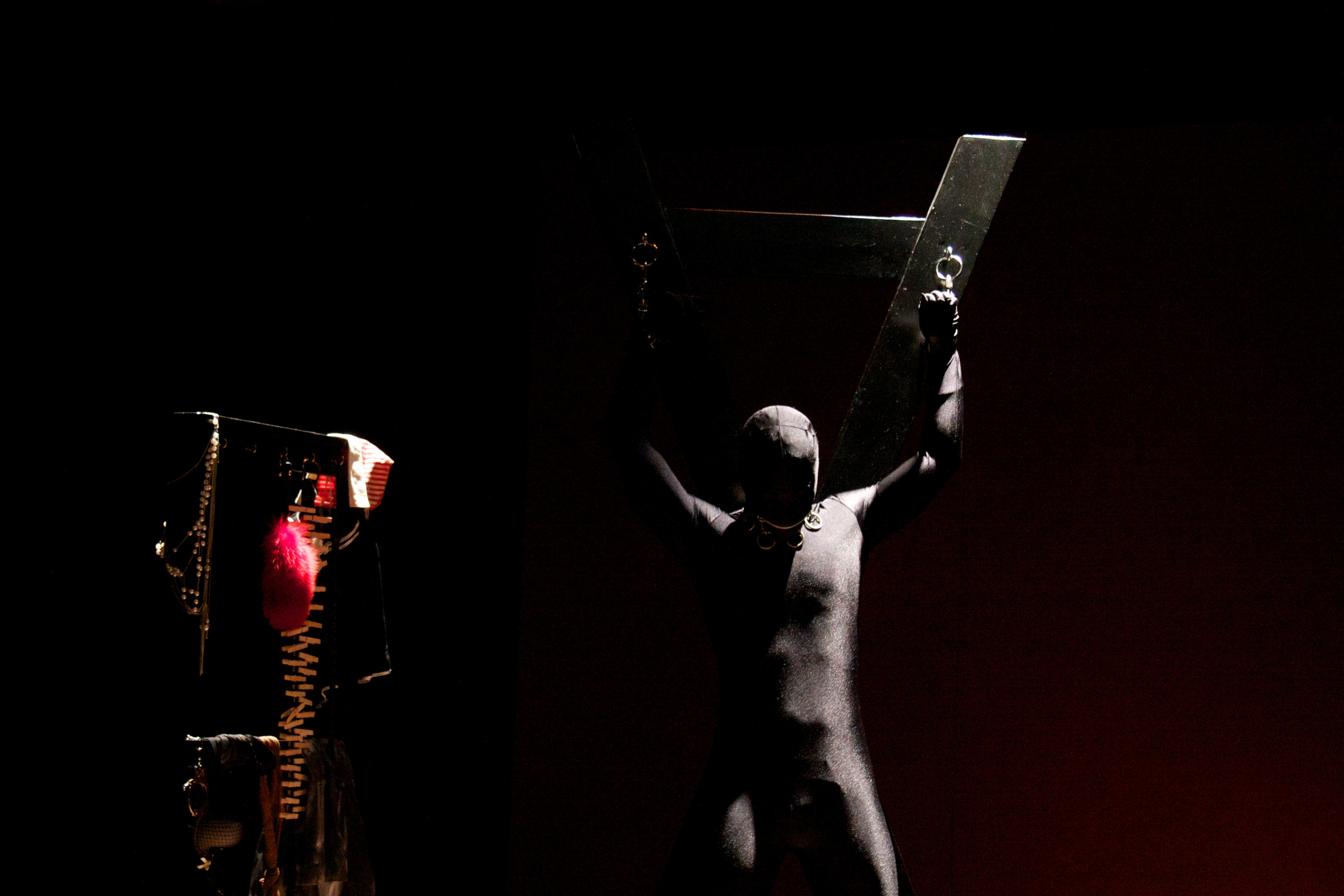 by David Henry Hwang
Directed by Toni Rae Salmi
Featuring Allyson Harkey, Jacob Yeh
"Love takes off masks that we fear we cannot live without and know we cannot live within."
–James Baldwin (The Fire Next Time)
Race, Relationships and Leather-​clad Role-​playing Collide in Pinky Swear Production's BONDAGE
Deep in the bowels of an S&M parlor, a dominatrix and her client are getting ready to play out their regular game. Concealing their faces and ethnicities in head-​to-​toe leather, the two enact elaborate fantasies, using racial stereotypes and sexual mythologies to fulfill each others' wishes. But when one of them goes off script, the line between role-​play and reality begins to shift, as do the identities and desires of the two people behind the masks.
This November Pinky Swear Productions proudly presents BONDAGE, by acclaimed playwright David Henry Hwang. This compact, charged drama directed by Toni Rae Salmi creates a world where sadism is an art and true intimacy is the most dangerous thing of all.
The two actors tasked with embodying these characters will, due to the necessities of the script, remain anonymous.
According to Salmi, this play, now two decades old, is still gravely relevant in an age where racial tension remains front-​page news.
"Despite being set in 1990s Los Angeles, BONDAGE is still timeless," explained Salmi. "Hwang realizes, through the long range of his work, that the word 'American' is constantly changing; unfortunately society's values are not keeping apace. Car locks still click when a black person walks by, being born in America does not mean you are 'really' American and, closer to home, the majority of produced plays are by white, male playwrights."
Salmi, of Filipina extraction, said the play spoke to her on a very personal level. "I have had to answer many variations of the question 'What ARE you?' I don't mind answering, but admit it gets a little old, and I wish for a world when the color of my skin does not need to be a topic of conversation."
The production will run Nov. 7 – 23 at the newly-​opened Anacostia Playhouse. Pinky Swear is thrilled to support this new theatre space owned and run by women.
The mission of Pinky Swear Productions is to produce modern plays with strong, engaging women's roles. Pinky Swear's goals are to build a company in which local theatre artists can make a living in our community; raise the profile of women's voices in theatre by hiring women artists and technicians whenever possible; and enable artists to experiment with new avenues of expression. Previous productions include: Smudge, Bench/​Bleed, Killing Women, Carol's Christmas, and Cabaret XXX (voted best musical at the 2011 Capital Fringe Festival).
For more information about the play and Pinky Swear Productions, visit www​.pinkyswear​-pro​duc​tions​.com
David Henry Hwang (playwright) is the author of M. Butterfly (1988 Tony, Drama Desk, Outer Critics Awards, Pulitzer finalist), Golden Child (1998 Tony nomination, 1997 OBIE Award), FOB (1981 OBIE Award), The Dance and the Railroad (Drama Desk nomination), Family Devotions (Drama Desk Nomination), and Sound and Beauty. His play, Yellow Face, which premiered at Los Angeles' Mark Taper Forum and New York's Public Theatre, won a 2008 OBIE Award and was a Finalist for the 2008 Pulitzer Prize. He wrote the scripts for the Broadway musicals Elton John & Tim Rice's Aida (co-​author), Rodgers & Hammerstein's Flower Drum Song (2002 revival, 2003 Tony nomination), and Disney's Tarzan. His opera libretti include three works for composer Philip Glass, 1000 Airplanes on the Roof, The Voyage (Metropolitan Opera), and The Sound of a Voice; as well as Bright Sheng's The Silver River, Osvaldo Golijov's Ainadamar (two 2007 Grammy Awards) and Unsuk Chin's Alice In Wonderland (Opernwelt's 2007 "World Première of the Year"). Hwang penned the feature films M. Butterfly, Golden Gate, and Possession (co-​writer), and also co-​wrote the song "Solo" with Prince. A native of Los Angeles, Hwang serves on the Council of the Dramatists Guild. He attended Stanford University and Yale Drama School, and was appointed by President Clinton to the President's Committee on the Arts and the Humanities.
Toni Rae Salmi (director) serves as Pinky Swear Productions' Resident Director. For Pinky Swear: Benched (Meghan); Cabaret XXX: Les Femmes Fatales (director/​performer – Capital Fringe Festival's Pick of the Fringe, Best Musical), Cabaret XXX: Love the One You're With (director/​performer), Carol's Christmas (director). Toni Rae was last seen onstage in Act A Lady (Dorothy) with The Hub Theatre Company and has worked with many DC area theatres including Taffety Punk Theatre Company, Imagination Stage (for which she earned a Helen Hayes Nomination), Theater Alliance, The Kennedy Center Theatre for Young Audiences, MetroStage, Keegan Theatre, and many others. Prior to arriving in DC in 1999, Toni Rae was a two-​year company member of the Cincinnati Shakespeare Company, directing their 1997 production of Measure for Measure. She hails from the wilds of Michigan's Upper Peninsula.