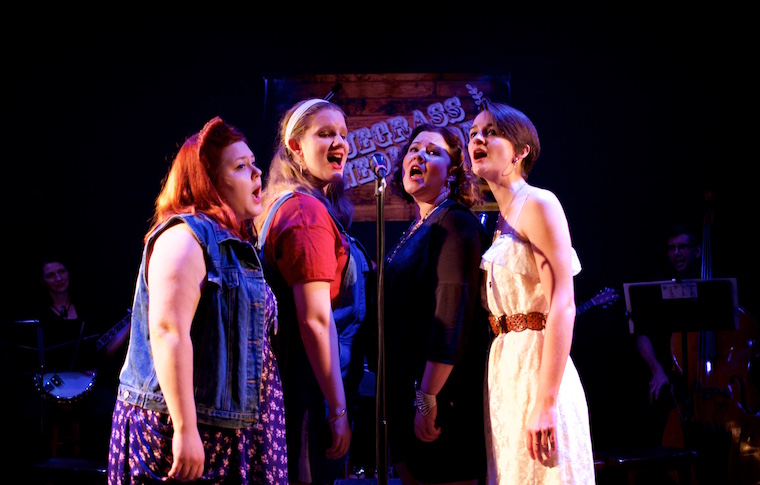 Over Her Dead Body
Sing a song of murder, forget the lady's name. Toss her in the water, try not to take the blame. Play a lilting melody on bones and flaxen hair. But they're coming back for you so gentlemen, beware.
Accompanied by live band Dead Men's Hollow, variety show performers Willie and the Appalachian Angels plan to broadcast a night of murder ballads on Bluegrass Benediction… but mysterious newcomer Emmy has plans of her own. Part radio show and part ghost story, award-winning musical Over Her Dead Body features and subverts bluegrass murder ballads – songs in which women were stabbed, poisoned, shot, or thrown in rivers (and sometimes all of the above!) by their lovers. They're back to tell their own stories.
Written by John Bavoso with Seth Alcorn, Karen Lange, Ryan Maxwell, Kenny Neal & Brittany Alyse Willis
Directed by Ryan Maxwell
Music direction by Steve Przybylski
CAST
James Finley, Karen Lange, Rebecca Phillips, Rebecca Speas, Brittany Alyse Willis
DEAD MEN'S HOLLOW
Mike Clayberg, Marcy Cochran, Caryn Fox, Belinda Hardesty, Jared Creason, &
Production & Stage Manager: Laura Wood
Assistant Stage Manager: Katherine Offutt
Sound Design: Kenny Neal
Lighting Design: Colin Dieck
Costume Design: Heather Whitpan
Prop Design: Matthew Pauli
Dramaturg: Seth Alcorn
Movement Coach: Rachel Hynes
Over Her Dead Body was originally presented in the 2016 Capital Fringe Festival, a product of the Washington, DC non-profit Capital Fringe.