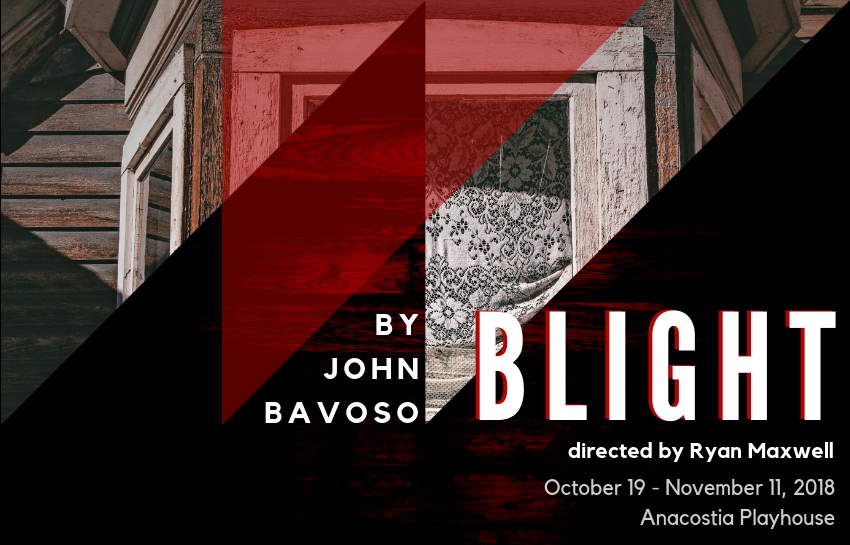 Pinky Swear Productions to Present the Rolling World Premiere
of Local Playwright John Bavoso's Much-Lauded BLIGHT
"Bavoso's script cleverly alternates and overlaps between the present and the past — sometimes in a poetic, ghost-story way […] In 'Blight,' the word 'monster' gets thrown in every direction. But this play reminds us that it's easy to label people and then dismiss them as enemies. Looking for our common humanity is much harder." — Orlando Sentinel
"The selling of a home that previously belonged to a teenager who committed a mass shooting sounds like a powder keg waiting to explode, but the script by John Bavoso and direction by Ryan Maxwell show the tender sides of this ultra-sensitive situation […] You have to trust the wonders of Pinky Swear to make this a remarkably upbeat experience." — DC Theatre Scene (review of the 2017 Kennedy Center Page-to-Stage Reading)
Washington, DC — Can a home be haunted by the actions of its owners? That's the question at the heart of John Bavoso's BLIGHT, which will have its rolling world premiere DC production by Pinky Swear Productions at the Anacostia Playhouse beginning in October.
In BLIGHT, Silvia and Cat Henson have just moved from a tiny apartment in Washington, DC, into their sprawling dream home in the small, affluent town of Greenville, Delaware. But the house only happens to be in their price range because it was most recently the home of a teenaged mass shooter and his single mother. Within days of moving in, they're confronted by a mayor who wants to erase their house from the map, a neighbor who's on a mission to turn it into a memorial, and an alarmingly chipper consultant who specializes in the macabre. Silvia and Cat are forced to grapple with whether now is the right time to bring a new baby into the world, or let the house create an irreparable rift between them and their new community.
"I'm so excited that BLIGHT is going to have a full DC production, and that Pinky Swear is the company producing it," says Bavoso, a DC local and Pinky Swear Productions company member. "The script had its first workshop and reading at the Anacostia Playhouse as part of Theater Alliance's Hot House New Play Development Series in 2016, and it's really special to me that it's going to come alive in that venue. And Pinky Swear's Ryan Maxwell (Director) and Karen Lange (Producer) have been along for the ride pretty much from the very beginning. It really feels like we're coming full circle and it's coming home in a way."
Since that initial workshop, BLIGHT has had readings all over the country including in Houston, TX, Orlando, FL, and at the Kennedy Center in DC. It's also racked up accolades, including winning The Landing Theatre Company's New American Voices Play Reading Series and Playwrights' Round Table's Premiere Series 2018, as well as being named one of the Top 20 Full-Length Play Finalists for the Source Festival 2017 and a semi-finalist for Eugene O'Neill Theater Center's 2018 National Playwrights Conference (the script was withdrawn from further consideration in March 2018 due to its production status). BLIGHT received its first full production by Playwrights' Round Table at the Orlando Shakespeare Theater in April 2018.
"We're so excited to continue our second season of plays from our resident playwrights," says Karen Lange, Artistic Director and Producer. "I was one of the first people to see a draft of BLIGHT, and I knew we'd want to produce it. The extensive workshop processes John participated in with theaters around the country has made it an even better, tighter show. It's a timely response to the world we live in – funny, poignant, and smart. I can't wait to show it to DC audiences."
The play opens on Saturday, October 20, 2018, at the Anacostia Playhouse (2020 Shannon Place SE), with shows Thursday through Sunday running until November 11, 2018. For more information on BLIGHT and Pinky Swear Productions, visit http://pinkyswear-productions.com/upcoming-productions/blight/.
CAST:

Pauline Lamb

Rachel Manteuffel

Rebecca Neumann Dreyfuss

Thomas Shuman

Brian Crane

Robert Heinley

Dannielle Hutchison

Jacqueline Chenault

Hilary Kelly

CREATIVE TEAM:

Playwright — John Bavoso

Director — Ryan Maxwell

Producer — Karen Lange

Production Manager — Heather Whitpan

Set Design — PJ Carbonell

Stage Manager — Sam Rollin

Dramaturg — Lauren Chapman

Costume Design — Heather Whitpan

Props Design— Katherine Offutt

Lighting Design — Katie McCreary

Sound Design — Cresent Haynes

Intimacy Choreographer — Emily Sucher
###
About Pinky Swear Productions
Pinky Swear is a feminist theatre company that celebrates the diversity of women's experiences by telling inclusive and subversive stories. The company is currently celebrating its 10th anniversary season in Washington, DC, by presenting two premiere productions by local playwrights in 2018. These shows—like all of Pinky Swear's productions—focus on elevating the voices of women and non-binary individuals, celebrating DC stories outside of the White House and Capitol Hill, and working the diverse community of the Washington, DC, metro area.