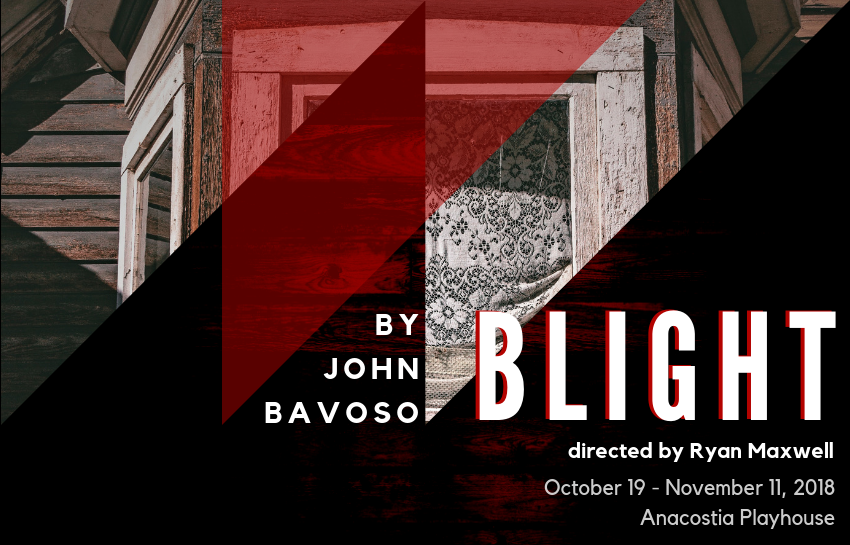 Meet the cast * Meet the creative & technical team 

Pinky Swear Productions to Present the Rolling World Premiere
of Local Playwright John Bavoso's Much-Lauded BLIGHT
 Can a home be haunted by the actions of its owners? That's the question at the heart of John Bavoso's BLIGHT.
In BLIGHT, Silvia and Cat Henson have just moved from a tiny apartment in Washington, DC, into their sprawling dream home in the small, affluent town of Greenville, Delaware. But the house only happens to be in their price range because it was most recently the home of a teenaged mass shooter and his single mother. Within days of moving in, they're confronted by a mayor who wants to erase their house from the map, a neighbor who's on a mission to turn it into a memorial, and an alarmingly chipper consultant who specializes in the macabre. Silvia and Cat are forced to grapple with whether now is the right time to bring a new baby into the world, or let the house create an irreparable rift between them and their new community.
The play opens on Saturday, October 20, 2018, at the Anacostia Playhouse (2020 Shannon Place SE), with shows Thursday through Sunday running until November 11, 2018. For tickets, visit https://psblight.brownpapertickets.com
###
About Pinky Swear Productions
Pinky Swear is a feminist theatre company that celebrates the diversity of women's experiences by telling inclusive and subversive stories. The company is currently celebrating its 10th anniversary season in Washington, DC, by presenting two premiere productions by local playwrights in 2018. These shows—like all of Pinky Swear's productions—focus on elevating the voices of women and non-binary individuals, celebrating DC stories outside of the White House and Capitol Hill, and working the diverse community of the Washington, DC, metro area.