2012
Pinky Swear returned to the Capital Fringe Festival in July 2012.
What it was:
We kicked some major ass with the first Cabaret XXX at the 2011 Fringe Festival — winning Best Musical in the process! We ar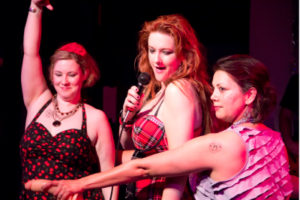 e now basking in the glow of our first full season of programming. It is a good time to be us.
It's also a good time to be you! The bitches are back and we still have more to say on love, relationships, and our unique view on the world. Expect more belting, more tattoos, more audience abuse (put away the fucking cell phones), more surprises and the addition of a new bitch: company member, Christina Frank. We're already in the midst of making this an even bigger, more badass show. Don't miss it or we will hurt you.
Check out an interview we did with the Washington City Paper
What the critics thought:
"Embarking on a Capital Fringe Festival experience in the company of the lusty womenfolk of 'Cabaret XXX: Love the One You're With' is like starting your day with two triple espressos and a rack of racy magazines." — Peter Marks, The Washington Post
"Pinky Swear Productions is almost a punk rock version of "Sex and the City". Four wonderfully different personalities, all genuinely relatable and likable. They all have their faults, but are so confident they, and no one else,don't  seem to care.
Cabaret XXX: Love the One You're With was a joy to watch. Men in the audience seemed to enjoy it as well, but who wouldn't enjoy these girls?"DC Theatre Scene
"If you're at Fort Fringe and the Cabaret is on, certainly drop in and take in some water. The Baldacchino is usually hot, but with these women – it's on fire!" DC Metro Theatre Arts