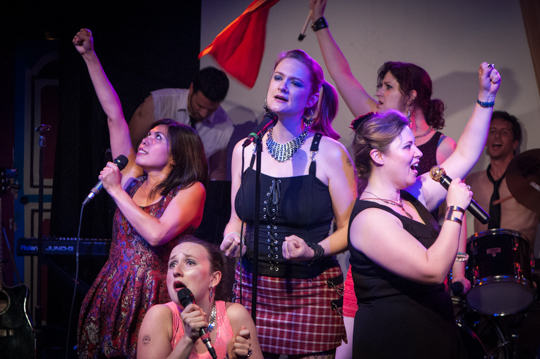 by Stephen Spotswood
Directed by Ryan Maxwell
Capital Fringe Festival, 2013
Cabaret XXXY: Who Do You Think You Are?
You may get tattooed. You may be handed a condom. You will be entertained.
Building on the success of Les Femme Fatales (Best Fringe Musical, 2011) and Love The One You're With, Pinky Swear brings back the Cabaret XXX series with another scorching show. XXXY asks the thorny question: who are you… really? And how did you get that way? Are you who everyone thinks you are? Or is there someone else lurking inside?
Like all Pinky Swear cabarets, XXXY: Love the One You're With is raucous, raunchy, and, most of all, revealing.
Written by Steve Spotswood with the cast
Directed by Ryan Maxwell
Assisted by Karen Lange
CAST
Clarissa Barton, Maureen Boman, Allyson Harkey, Chris Herring, Karen Lange, Laura Miller,  Felix Pages, Jacob Smith & Robert Wilson
Cabaret XXXY: Who Do You Think You Are? was presented as a part of the 2013 Capital Fringe Festival, a program of the Washington, DC non-​profit Capital Fringe.