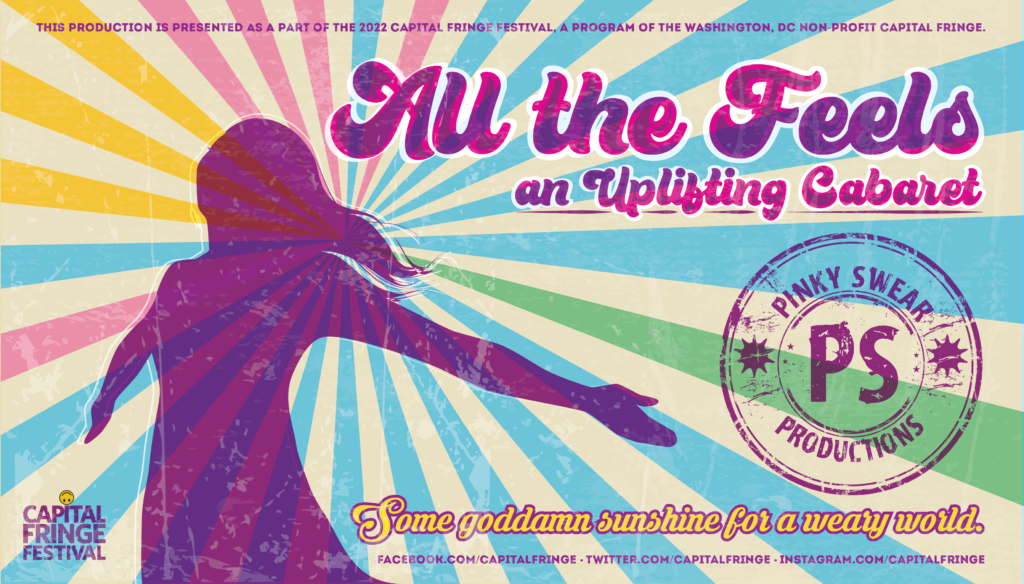 Dates!
Preview – in case you can't make the festival!
Preview at Crazy Aunt Helen's Sunday July 10 6 PM
At Capital Fringe Festival in the 3 Stars Venue (formerly DSW Georgetown)
17 July 4.30pm* sold out
You've seen the Cabaret XXX series. Well, this is not that. All the Feels is a new kind of cabaret for Pinky Swear. It's a little softer but just as funny, featuring performers who will leave a mark (in a good way.)
Pinky Swear favorites Karen Lange and Rebecca Speas return with a whole slew of new performers to delight and uplift you. Here's an FAQ for Pinky Swear fans:
Will there be encouraging songs? Yes.
Will there be angry songs? Yes.
Will there be a boy band song? You'll see.
Am I going to leave feeling good? Oh, yes. We'll make you feel real good.
Will there be sex jokes? Um, have you even met us?
With a script by Karen Lange and direction by Nátalia Gleason-Nagy, you are in for a very, very good time. We'll see you at the festival!
Tickets and dates are right here, sugarplums: https://capitalfringe.org/events/all-the-feels-an-uplifting-cabaret/