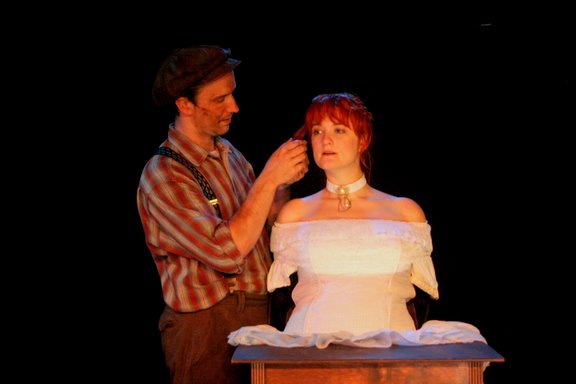 by Carson Kreitzer
Directed by Lise Bruneau
This is the one that started it all. Pinky Swear's first production!
Are you one of us? Step right up. If you dare.
At the turn of the last century, a traveling Freakshow grinds to a halt. Things are changing. The anger of being stared at, trapped, caged, is at war with the comfort of knowing your place in the universe. But the growing defiance of the freaks is no act. Will the Dog Faced Woman break her bonds from the show, collapsing the fragile bubble of sustaining interdependence? Can the jaded Ringmaster, a profoundly broken man, find redemption through his love for the Woman With No Arms and No Legs? In this poetic, gritty world, there may only be one way out.
Cast:
Matthew:

JB

Bissex

Pinhead:

Edward Daniels

Amalia:

Allyson Harkey

Judith:

Karen Lange

Aquaboy:

Lauren Linn

Mr. Flip:

Andrew Mitakides

Girl:

Rachel Lee Poole
Presented as part of the 2011 Capital Fringe Festival